Small Internet Business
Nintendo Wii For Sale – Lessons Learned This Christmas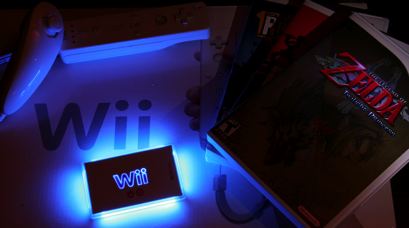 A few months ago, 46 decided to find a Nintendo Wii and sell it for profit during the Christmas holiday. The process turned into a nice little case study in entrepreneurship so I thought I would share the story.
Judging Supply And Demand
The Nintendo Wii has been a hot ticket item since its introduction last year. It is also infamous for being incredibly hard to find. I tried to find one for my personal use last year and had to run around town for months before finally getting one. That included camping out in front of a local Target store where I was the 19th person in line for, what turned out to be, 18 Wiis. Ouch. We kept track of gaming industry news leading up to this Christmas and all signs pointed to another shortage.
Are the laws of supply and demand in our favor? Check.
Planning Ahead
Starting a Nintendo Wii fan club or Nintendo Wii hacks website last year would have been brilliant. We are not quite that smart but did start looking to purchase a Wii months before the holidays. It still was not easy but imagine doing that a few weeks before Christmas like most people. We purchased one (one of the final two in the store no less) in the beginning of November.
Does our schedule give us a chance for success? Check.
Determining Pricing
46 spent a decent amount of time researching price points on eBay and Craigslist. She wanted to make a profit but also did not want to price gouge anyone especially during the holidays. When it came time to sell she knew what a good middle ground was and where it was trending. At worst, it looked like we would break even so that was a pretty good downside.
Can we make a profit? Check.
Creating Compelling Copy
When she researched pricing, she also paid a lot of attention to the copy of the sellers. When a Wii sold for much higher (or much lower) than the average she made notes of what the seller did differently. A Nintendo Wii sells itself right now but it is always better to stand above the crowd.
Can we differentiate ourselves from the competition? Check.
Choosing The Right Time
She waited until December to sell the Wii. That move easily doubled her profit (remember, she was still selling it for less than the average price on eBay or Craigslist). It actually might have tripled if she waited another week. No use getting greedy and seeing the bottom fall out though.
Is the market ready for our product or service? Check.
Recognizing Opportunity
Hungry buyers appeared right after the listing went up on Craigslist. Big surprise right? Well, a family friend found out and asked about the price. When we told her she said no thanks because it was "way too expensive." Keep in mind that:
She probably would have a gotten a deal being a family friend.
46 knew exactly how much they were going for and set a fair price based on that.
15 people already offered to buy it.
It was three weeks before Christmas!!!
A week later she called in a panic because she could not find a Wii anywhere. Uh, yeah, you think!?! To be fair, we should have started earlier and bought like a dozen Nintendo Wiis instead of just one.
Are we taking advantage of opportunities in the marketplace? Mostly.
Taking Action
Several people in our families knew exactly what we were doing. None of them showed the slightest bit of interest in it until AFTER finding out how much we made from selling ours. Most of them still do not really care, but a few wanted to start trying to do the same thing (but two weeks before Christmas).
Are we taking action instead of sitting on the sidelines? Check.
Overall, I would give us a B- on this endeavor. Considering we are new at this whole making money outside of a traditional job thing that is not too bad I guess. Now we need to translate these lessons into more online successes.
47
Image courtesy of clownfish