Personal Development
Using Visual Aids As Motivation For Reaching Your Internet Business Goals
How would you like to find more motivation for working on your internet business goals (or your personal goals for that matter)?
One of my favorite stories from Work Less & Play More talks about how the author, Steven Catlin, motivated himself at work. He taped giant pictures of money, the amount he earned after taxes, up in his office. He worked at a terrible job and was holding on just long enough to finish saving money and paying off debts. The huge pictures of money helped him focus on that goal. Now, if you hate running your internet business that much then you're in serious trouble. But I still like the idea of making your goals crystal clear and in your face.
One of my personal goals, which is most of the reason for our business goals, did a Dr. Jekyll and Mr. Hyde on me. We want to build up our internet income so we're able to do lots of extended world traveling. Really a lot of budget travel so I guess you could call it backpacking. Even if we don't earn enough to quit our day jobs for good, it should still help our trips last longer.
Anyway, I regularly take breaks to look through our copy of Lonely Planet's Europe On A Shoestring, check airfare, read hostel reviews, etc. That dangling travel carrot used to motivate me but the first couple of months this year I really struggled getting enough work done because of the travel bug. Instead of researching niches and building up our websites, I looked at backpacks and other gear. Yeah, I even started calling it gear. Until a few months ago I didn't even know people called it that.
The point is, between my day job kicking back into overdrive, for weeks I only had 1 to 2 hours to work on our websites before bed, and wasting the little bit of free time I had surfing travel websites, we didn't make enough progress toward meeting the business goals. I tried embracing the travel itch again and using it as fuel at first. Failed miserably. I tinkered around and tinkered around and then accidentally found one thing that helped a lot.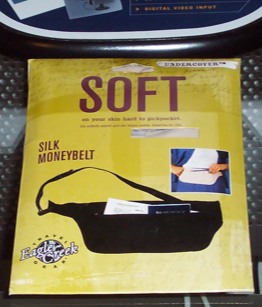 An unopened Eagle Creek silk money belt sits right in front of my monitor. I originally bought it as part of our super slow prepping for an overseas trip next year. It stayed on the desk because I couldn't decide between it and the Eagle Creek deluxe money belt. I kept it there as a reminder to possibly exchange it (either one should protect a passport, cash, and other documents just fine but I couldn't decide which material would be best). Keeping it on the desk had an interesting side effect though. Every day I see it sitting there staring at me saying "increase your profits and take me to Munich!" I'm not kidding. It really says that I swear! I'll start wasting time, glance down, it starts talking about ROI and gaining subscribers, and back to work I go.
Once I realized what was happening, I remembered a lot of things I'd read about using visual aids for your goals. Some people make dream boards or dream books or vision boards or whatever. I'm such a visual person that it's amazing I forgot about this little trick.
We're going to Mexico soon as a baby, baby trial run (backpacks, money belts, and all) for our bigger adventures next year. When we get back I'm taping a picture of us on the beach to the monitor too. I can already tell the picture and the money belt will have some crazy conversations. Maybe the picture will teach the moneybelt Spanish?
I'm a big fan of setting personal and business goals. I'd written down my goals, which I think is a critical step, but doing this too helped tons. So what are your goals? Can you find a small item or a picture to represent them?
47
Needs to stop reading travel gear reviews.